Whether early in the morning or late at night, you are always welcome at BingoCams. Come and play Bingo or one of the other games this online bingo casino offers. The door is never closed so you always have a chance to win.
Have fun playing bingo, while socializing on the webcam
The one thing that makes playing on BingoCams so much fun and what makes them really stand out from other bingo sites is the fact that you can interact with the other players via webcam.
You sit comfortably at home on the couch (or your favorite spot), but at the same time, you're playing together with other players online.
When you play Bingo with friends or others online, it's guaranteed to be a time of fun. You get the thrill and excitement from playing in real life but without having to leave your house! It's like being able go out on Saturday night even though there is no one else around but yourself.
Note: You can also play along if you do not have a webcam or prefer not to use it.
What Bingo Games Does BingoCams Offer?
At Bingocams, you can play 90 ball bingo. Known as keno in some parts of the world, this version has a board with 27 squares instead of 25 like at 75 ball bingo.
On the board there are three rows with nine boxes per row. On each row there are four empty squares and five squares with a number in it.
There are several prizes to be won:
   1 line
   2 lines
   Full card
In addition to 90-ball bingo, BingoCams also offers 75-ball bingo.
With the 75 ball version, you can also get bingo with shapes and numbers matching on your card. For example a house shape or an arrow pattern: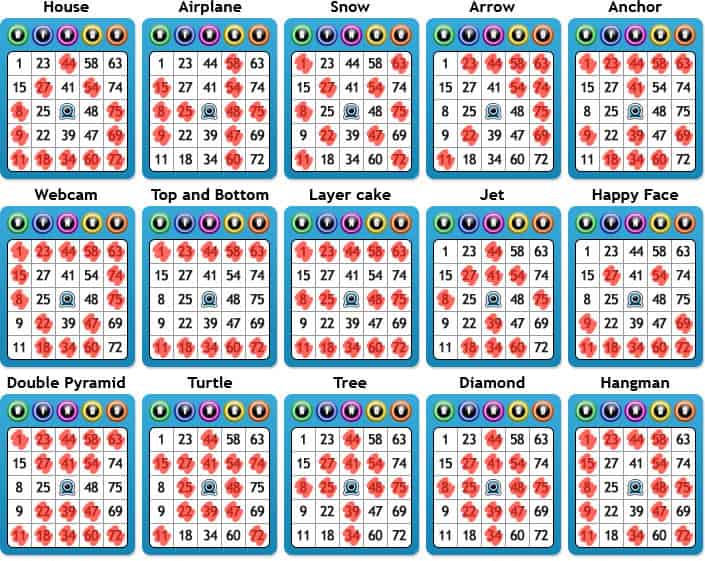 The 90 Ball Bingo does not usually use a pattern, as this is difficult to achieve with the empty squares which are drawn at random.
At Bingocams you can find several different bingo rooms where each of the bingo variants can be played.
BingoCams: keep winning with bonus on bonus
BingoCams offers a fantastic VIP system and exciting bonuses for those who love to play bingo:

200% first deposit bonus
If you open an account and make your first deposit, you'll get 200% free play credit as a welcome offer. So if you deposit €50 to play with, you'll get another €50 on top of that!
Reload bonus
Then there is the reload bonus. Every week you will receive a promotional code in your email. If you use that code to deposit, up to 125 euros, you will get an extra 50% of your initial deposit.
Status bonuses
Bingocams is an online casino that values its players so much, they offer huge bonuses for their loyalty. Players can earn points to move up levels and receive even bigger bonus rewards. These so called status bonuses for can amount to 20,000 Euros.
Bouncing Bonus
The Bingocams Bouncing Bonus game is a side game that allows players to win big bonuses using their clicking skills. Every so often, the system randomly picks one of your bingo cards and you get selected for this exciting Bingo bonus round!
15% Extra for your Live Win Moment
To encourage members to play with their webcam running, BingoCams gives webcam players an extra 15% on top of their jackpot prize in certain rooms. If you capture your winning moment with the webcam and share it on BingoCams.com you will get a bonus of 15% extra! Just click "yes" when they ask if your video can be used for promotional purposes and get your reward instantly!
Win thousands of extra Euros in the progressive jackpot!
In addition to playing Bingo, you automatically participate in the progressive jackpot when you buy bingo cards. This can amount to tens of thousands of Euros.
Bingocams offers a progressive jackpot that is constantly increasing. A small amount of all ticket sales goes into the pot to increase it until someone wins! The prize money could grow in value by tens or even hundred thousand euros. Which could be yours with your next lucky bingo ticket purchase!
Note that only Bingocams players that have deposited in the last 3 months are eligible for playing the jackpot.
Free spins
Or should we say free bingo games? Yes, that's the better frasing.
BingoCams offers three times a day a free bingo room, where you can play bingo for free.
Yep, that's right. You can win real cash prizes for free.
How can you enter one of these free bingo rooms? We'll tell you how: If you've deposited and wagered at least €25 in the preceding week then on Monday, an invite will show up.
No wagering requirements
Bingocams has no wagering requirements for you to withdraw your deposit or balance! Meaning, of course, that you can always withdraw your balance at any and all time. Your deposited funds and winnings will never be tied to the bonus – only welcome bonuses (usually a percentage match) are forfeited when withdrawing before meeting the wagering requirement. They let you keep your Free Bonus as well as Mystery Bonuses when you withdraw from their site.
Payment options, how to deposit money to your BingoCams account?
You can choose from several payment options when playing for real money. You have the option of using a MasterCard or Visa credit card, as well as Pay-Per-Call (pay by phone), Paysafecard, Skrill (Moneybookers) and Neteller online payments.
The checkout button is at the bottom right in your BingoCams account. Click it and you'll see a selection; choose 'buy credit'. The Buy Extra Playing Credits screen opens with three tab pages: Telebanking, Phone Banking or Credit Card. On tabs, click on desired method then input amount into drop down box and hit buy credits button!
The minimum amount to deposit is 10 euros, excluding Pay per Call. The minimum for this is EUR 1.40.
Withdrawal
Cashing out your winnings usually takes 3 to 5 business days, and it can be deposited into your bank account or any of the other payment methods if you prefer.
Security and helpdesk
BingoCams.com is the world's number one site for live bingo and casino games, and is run by Dazzletag Entertainment Ltd based in Malta – a European member state that has become famous with its progressive laws on gambling entertainment.
Dazzletag Entertainment Limited is a licensed company with the Malta Gaming Authority under licenses MGA/CL1/711/2010 and MGA CL3 711 2010 both issued on 24th of August 2011.
Help desk
Between 12:00 and 0:00 there is always a chat host on hand to answer questions and ensure your stay in the Bingo room is pleasant.
Outside of these times, you can always contact the help desk. At this desk, you will find many topics, where you can select your question. If your question is not covered or if the answer does not help you, you can send a message to the help desk via live support or the contact form.
No downloads necessary
No special software needed to use Bingo Cams, everything works right from your browser! So you don't need to download or install anything.
Fair play
The BingoCams software is designed to be very safe and accurate. Ball numbers are drawn at random with the usage of a Random Number Generator (RNG) which complies with security regulations from the Maltese Gaming Authority.
Is BingoCams mobile friendly?
Yes, you can play BingoCams from your mobile or tablet. Make an account and enjoy on all three platforms: web, phone, and tablet! Available for Android as well as iOS devices.
Does BingoCams offer other games besides bingo games?
Yes, BingoCams offers a wide variety of casino games and slots to choose from. You'll enjoy playing classic favorites like blackjack, roulette or poker as well as innovative new twists on classics like The One Armed Bandit slot machine! The payout rates are up to 96,20%.
Curious about BingoCams after reading this review?
BingoCams provides one-of-a kind bingo games that allow players in the comfort of their own home.
Curious? Take a look for yourself at the BingoCams site:
Alternative
You might also like: