Slots are by far the most popular game in the casino, whether it be an online casino or a brick casino. Even in cafés and bars, the old-fashioned slot machine is almost always occupied. And who haven't thrown a few dimes in the Club 2000 or Random Runner in the local snack bar or Chinese takeout? But what is the best way to win at slots?
What makes slots so popular?
Slots appeal to many people for a number of clear reasons:
They are easy to understand.
The minimum bets are low.
You can win a lot of money, even with a low bet.
Oh, and of course the gameplay is pleasing to the eyes and ears with loads of animations and nice themes.
There are thousands of different slot games to pick from, with the most diverse themes: from movies and television series to rock bands and universal themes such as wealth, fairy tales, and mythology.
The bonus features are the icing on the cake. With free spins, extra wilds, multipliers, and mystery prizes, there is plenty to do. And how about the old trusted wheel of fortune bonus?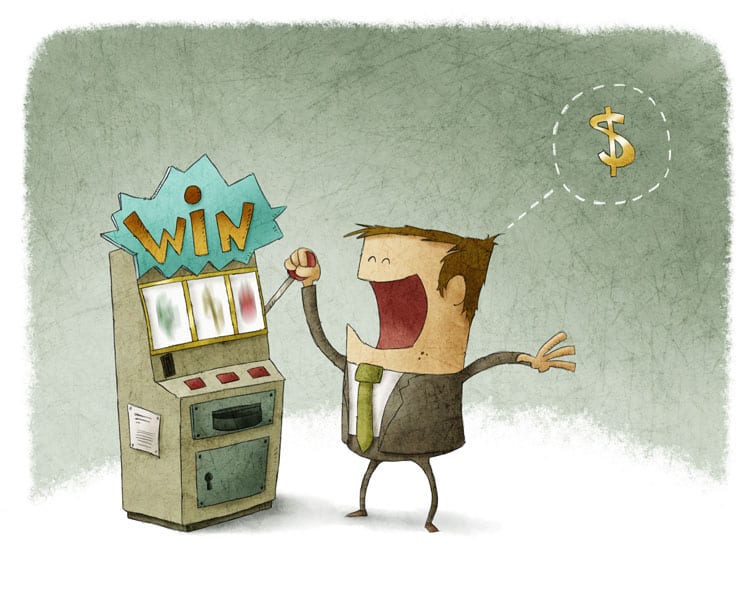 How to win at slots?
First, a few things to keep in mind:
Slots are fun, slots are exciting and slots are entertaining. And slots are also known to be money-eaters, where you can't possibly win in the long run.
However, we have prepared a strategy and tips guide for you to increase your chances of winning at slots. Simple leads that help you make the best possible choices. And perhaps occasionally a very nice price.
Before we start with our tips and strategy for slots, however, we have to list a few things:
In the long run, you'll always lose at slots. Every slot machine has a built-in house edge. If you play long enough, the casino will always win from you. So don't quit your job just yet.
Slots have no memory. They don't know how much you've won or lost.
Each slot works with a random number generator that ensures that every spin is independent and cannot be influenced.
Do not fall for the "gambler's fallacy": if you played a lot of rounds on a slot machine without winning, this does not mean that your chance of winning the next round is higher. The opposite also applies: a slot machine that has just paid out can just pay out again.
Slots in cafes or land-based casinos pay a lot less than online slots. Slots in cafes and vending machine halls often pay out around 80% – 85%. Slots in land-based casinos between 85% and 92%. Online slots have a payout of more than 96% on average.
Well, now that we have these things clearly stated, we can go to the fun part of this article. Here are our strategies and tips that will significantly increase your chances of winning at slots.
The best strategy and tips for slots: how do you increase your chances of winning at slots?
If you follow the 14 tips below, your chances of winning at slots will be significantly higher. Do we guarantee that you always win? Absolutely not.
But you will play smarter, win more, and have more profit.
Enough reason to read on, we think.
Determine a budget
This is by far the most important tip we have. Before you start playing, set a budget, and stick to it. If you run out of money, stop gambling.
Leave that credit card at home or set a limit at the online casino to avoid wasting more than your gambling budget allows.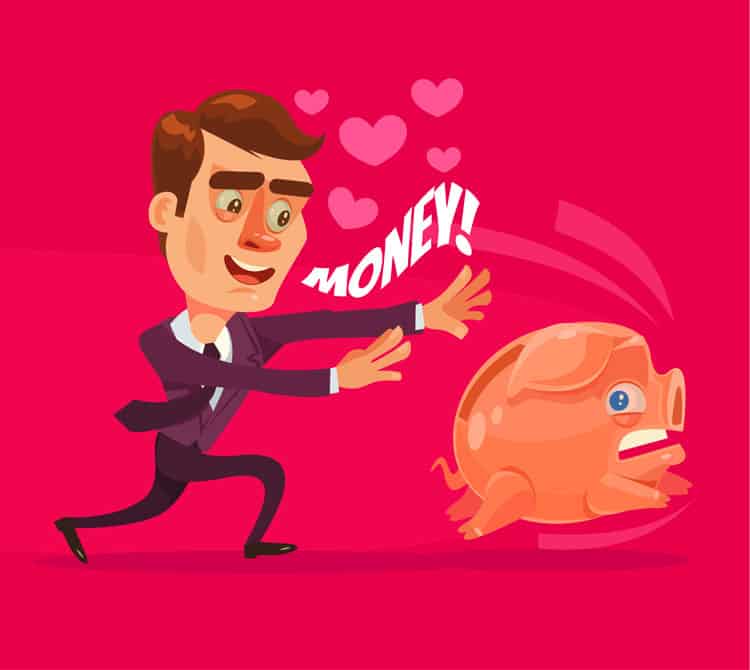 Stop on time
Stopping on time is one of the hardest things to do when you're gambling. If you are at a loss, you want to reclaim the loss. And if you stand a profit, you want to make more of it.
Agree on a clear profit target with yourself
A good way to make sure you stop on time is to set a realistic profit goal. Pay attention! Above all, this goal must be realistic. If you have deposited 100 euros, a profit target of 5,000 euros is not realistic. A profit target of 250 euros is already a lot more realistic.
Hit and run: cash out as soon as you reach the goal
And now the fun comes: once you have reached the profit goal, you go to the cashier of the casino and get paid out. You only continue to play with any remaining balance. But not before you have set a new profit target.
Use the withdrawal lock
If you play at an online casino where this is possible, then activate the withdrawal lock. This blocks the payout and prevents you from playing with it again. It has happened to all of us, it is no shame.
Only play slots from respected game providers
If you want a realistic chance of winning, only play slots from providers that are respected and reliable. So do not play on slots from unreliable game providers or on slots made by the (online) casino itself.
Reliable parties include Netent, Microgaming, Thunderkick, Quickspin, Pragmatic Play and Play'n GO.
Try slots for free first
At any good online casino, you can try the slots for free. Use this so that you become familiar with the game rules, the number of paylines, the bet levels, and the bonus features. You can only then play for real money if you understand how everything works.
Choose the right number of paylines to play on
Too many paylines can seem overwhelming to novice players. If you have hundreds of paylines, you won't be happy when you play online slots for the first time. Therefore choose a slot with a limited number of paylines, for example 9, 10 or 15. If you have more experience, you can always "upgrade" to a slot with more paylines.
Only play slots with a high payout percentage
We have already mentioned that online slots pay out more than land-based slots. But there can also be large differences in payout percentages between the different online slots.
Therefore, pick wisely and play as many slots as possible that have a payout percentage of 97 or more.
Avoid progressive jackpot slots
You should avoid progressive slots like the Mega Fortune Dreams.
Progressive jackpot slots sound attractive: you can win millions with just a small bet. However, there are two things players often forget, blinded by all those millions:
The chances of winning a million jackpot are smaller than being struck by lightning.
A large part of the payout percentage is transferred to the jackpot. That is why it is a lot more difficult to win money on these kinds of slots.
Therefore, only play progressive jackpot slots with "extra" money. Do not play these types of slots with the expectation that you can win money on them.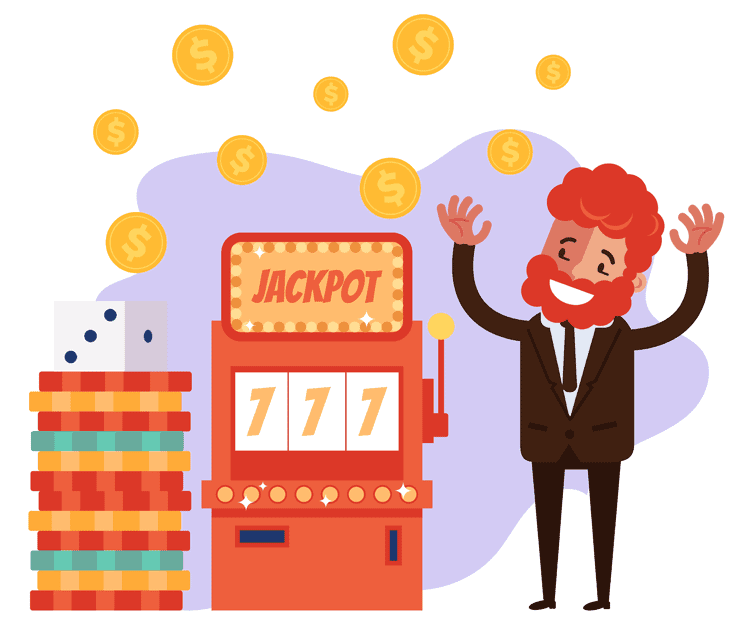 Choose a variance that suits you
The so-called variance of a slot machine says something about the risk profile of that slot machine. A slot with a low variance pays many small prizes, but it will be difficult to win big on such a slot. The risk profile is therefore low.
A slot with high variance is very erratic again. Sometimes you win nothing at all a couple of spins in a row, and then suddenly you win big time. The risk profile of a high variance slot is high.
A medium variance slot is in between. You usually win nice prizes, and occasionally a very nice one.
As a rule, low variance slots are very entertaining, with many (mini) bonus features. Yet you are only, very slowly, using up your balance.
If you want to have a chance to win real money, you better play medium or high variance slots.
What is the Hit Frequency?
Hit Frequency is an indicator of how often a price falls. The higher the Hit Frequency, the more often there are prizes.
The Hit Frequency also applies to bonus features. There are slots where you hit the bonus feature every 35 spins, such as Starburst. But there are also slots where you rarely hit the bonus game, such as Book of Dead.
On the latter, the Hit Frequency of the bonus game will be perhaps 1 in 400 spins.
Provide sufficient starting balance
Games with a low bonus Hit Frequency need a high starting balance. After all, the big money is often won in the bonus round.
Let's say you are going to play Book of Dead with a bet of 1 euro per spin, then it makes little sense to start playing with a budget of 20 euros.
After all, the chance that you win the bonus round is very small, so that you are probably broke before you activate a bonus round. In this example, you should definitely start with 100 euros to have a reasonable chance of a bonus game (you also win many small amounts in between).
Play with bonus money
Slots are ideal for unlocking a welcome bonus. Playing on the one-armed bandit counts in most casinos 100% towards unlocking the bonus. That is a lot compared to table games like Blackjack and Roulette, which only contribute 5% or even 0% in wagering the bonus.
Most bonuses come with wagering requirements attached to them. A wagering requirement is the number of times a player must play the bonus money before being allowed to make a cash withdrawal.
You must look for a bonus with realistic wagering conditions, preferably of 35x the bonus or less. Avoid welcome bonuses where you have to play both the bonus and the deposit, these are rarely worth it.
Always read the bonus conditions carefully first: regularly a number of slots are excluded from playing with bonus money and/or the amount per spin is limited.